Maple Roasted Butternut Squash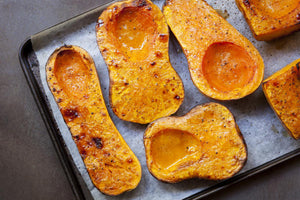 Ingredients: 
2 Small Acorn or Butternut Squash
2 TBSP Butter
Salt
Instructions: 
Preheat oven to 400 degrees F.
Split the Squash and remove the seeds.
Sprinkle the cut sides with salt.
Place side down in a baking dish and bake for about 40-50 minutes or until the squash is easily pierced with a fork.
Turn and make indentations with a fork.
Across the cut side of the squash, spread with the butter, drizzle with Pure Maple Syrup and return to the oven for 3-4 minutes.
Serve hot.