Grilled Pineapple Skewers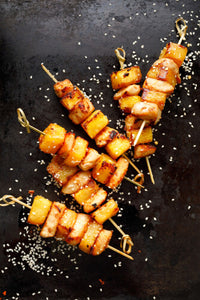 Ingredients:
¼ Cup Balsamic Vinegar
1 TBSP Asian Sesame Oil
1 ripe pineapple, trimmed, peeled and cored
Instructions:
Combine all the ingredients in a bowl except pineapple. Set aside.
Halve the pineapple lengthwise. Slice the halves crosswise ½" thick, then cut each slice into 1" pieces so that you end up with little triangles of pineapple.
Toss the pineapple in the marinade and let rest for 20 minutes, stirring once or twice.
Thread the pineapple pieces onto eight 12" skewers, spacing them approx. ½" apart.
Preheat the grill to medium. Grill the pineapple until glistening and golden. Turn only once.
Remove the pineapple from the skewers and serve atop of pork chops.