Maple-Banana Bread with Macadamia Nuts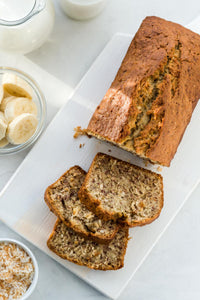 Ingredients: 
2 Cups All-Purpose Flour
1 Cup Sugar
¼ Cup firmly packed Brown Sugar
½ tsp Baking Powder
1 tsp Baking Soda
1 tsp Salt
1 Egg
1 tsp Maple Flavoring
3 TBSP unsalted Butter, melted
1 ½ Cups mashed ripe Bananas
1 Cup Macadamia Nuts, chopped and toasted
Instructions:
Preheat oven to 350 degrees F. Butter a 9" x 5" loaf pan.
Sift all the dry ingredients together into a bowl.
In another bowl, combine the egg, Pure Maple Syrup, flavoring, butter and bananas. Whisk to blend.
Make a well in the center of the dry ingredients. Add the liquid ingredients all at once.
Stir until evenly moistened; the batter will be lumpy. Fold in the nuts.
Scrape the batter into the prepared pan.
Bake for 1 hour and 30 minutes.
Let cool in the pan for 5 minutes, then unmold onto a wire rack.