Maple-Garlic Chipotle Chicken Wings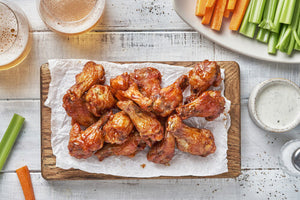 Ingredients:
3 Chipotle Chiles
½ Cup Canola Oil
3 Cloves Garlic
1 tsp Black Pepper
2 ½ lbs Chicken Wings
Instructions: 
Preheat oven to 425 degrees F.
Line a baking sheet with parchment paper.
To make sauce, puree the chipotles in a blender. Add remaining items, except wings, and blend until smooth.
Arrange the wings on the prepared pan and sprinkle with pepper on both sides.
Bake for 15 minutes. Remove from the oven and turn the wings over.
Preheat the broiler.
Brush the wings with the sauce and broil for 3 minutes.
Remove and turn, baste with the sauce and broil for 2 minutes on the second side, or until crispy.
Remove, brush with any remaining sauce.