Smoked Maple Pulled Pork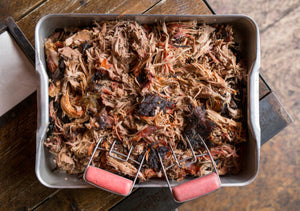 You'll want to start this beauty early -- the pork needs to sit for 8 hours prior to smoking, and cook for 7.5 hours+ in the smoker. Trust us, it's worth it. 
Equipment:
Smoker or Grill
Ingredients:
1 5-lbs bone-in pork butt
For the Dry Rub Seasoning Blend:
2 tbsp salt
1 tbsp brown sugar
1 tsp garlic powder
1 tsp onion powder
1 tsp paprika
1/2 tsp cayenne pepper
1/2 tsp black pepper
1/2 tsp cinnamon
1/4 tsp nutmeg
For the Maple Glaze:
1/2 cup Richards Pure Maple Syrup
1/4 bourbon (any whiskey works)
1 tbsp cayenne powder (to your taste)
pinch of salt
Instructions
Dry the pork butt by patting with a paper towel and set aside. 

Whisk all your dry rub spices (salt, brown sugar, garlic powder, onion powder, paprika, cayenne, black pepper, cinnamon and nutmeg) together in a bowl until well blended.

Liberally season the entire pork shoulder. Rub it real good!

Wrap and store in refrigerator for 8 hours or overnight.

Preheat smoker to 225 degrees.

Smoke the pork until a wireless thermometer reads 195-201 degrees. Depending on your smoker, this can take around 7 to 12 hours. Resist the urge to raise the temperature, since this may dry out your pork butt.

Apply smoke for the first 3 hours for the best flavor.
When the pork has about 2 hours left, make the Maple Glaze 
Whisk all your glaze ingredients in a small pan over medium heat.

Stir until the cayenne has dissolved.

Lower heat to a simmer and allow the glaze to thicken. This takes about 20 minutes. Keep warm.

During the last hour of cook time, baste the pork with the maple glaze every 20 minutes.

When cooked, remove the pork from the smoker and allow to cool before shredding.

Drizzle any remaining maple glaze over top.

Store in an airtight container or serve hot.